High-Level Forestry Skills Project
Menu: Click across the green arrows to view active and completed project stages. Consultation takes place at every stage of the project.
Case for change
Forest harvesting and haulage contractors work in remote areas, requiring a unique set of safety skills. Foresters require a safety mindset that accounts for the impact of an isolated working environment, including the implications for mental health and the fact that some areas may not be easily accessed by rescue teams. This project proposes the development of a skill set and up to two new units of competency for operators, relating to shaping and sustaining safety culture and practices whilst working in remote high-risk operations.
The Australian Industry Skills Committee (AISC) approved this project, out of the 2020 Annual Update to the IRC Skills Forecast and Proposed Schedule of Work.
The Forest Management and Harvesting Industry Reference Committee (IRC) will oversee this project as part of their responsibility to support engagement with the sector, and to ensure the project meets industry stakeholder needs.
Skills Impact and ForestWorks will manage this project, consistent with the 2012 Standards for Training Package Development.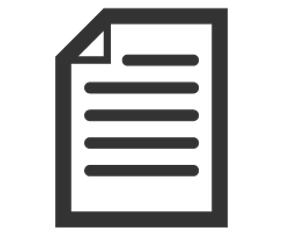 Download Project Proposal (see page 67)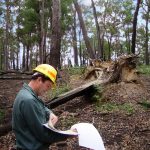 Project Plan
The process to grow sustainable forests for timber, wood and fibre products requires a team of professional foresters and forest workers. Given the scope of this work and the often vast or remote spaces it takes place in, skills for high-level roles to supervise, plan and manage production forests and commercial plantations are essential. Expertise is required for optimising forest management practices, to improve forest health and wood flow outcomes and to promote safe work practices. These skills are in high demand in Australia, however there is a shortage of people qualified and available to perform the work. This project will review and update skills standards and qualifications for high level forestry jobs so that they better support career pathways and reflect the current skills required to grow and harvest forests sustainably.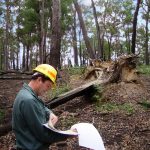 Foresters have adapted to using a range of new digital and spatial technologies since the Diploma and Certificate IV qualifications were last reviewed. Updated skills are needed at a senior level to develop digital forest maps and harvest instructions files and for the management and analysis of harvesting optimisation data. Expertise is also required for the collection of forestry data using unmanned aerial vehicles (UAV) and interpretation and use of image data in forestry planning and management. With these advances, practices for sustainable and safe forest management have expanded and relevant skills need to be reflected in national skills standards.
Industry will be consulted throughout this project so that current work practices and skills needs are reflected in updated qualifications, skill sets and units. This will include the digital and technical skills to work with data, new technologies and the latest equipment, and well as the skills required for sustainable forest management. Consideration will also be given to how to best promote clear career pathways. These updates will support Australia's forest industry to develop and foster critical skills in sustainable forest management that ensure the necessary supply of timber and fibre in Australia, now and into the future.
Project Scope
Qualifications, units of competency and skill sets to be reviewed and redesigned:
FWP40116 Certificate IV in Forest Operations
FWP50116 Diploma of Forest and Forest Products
FWP60116 Advanced Diploma of Forest Industry Sustainability
Fifty four units of competency within the qualifications
Nine skill sets related to management roles in forest operations
New units and skill sets to be developed (subject to consultation), including six new units of competency regarding digital and spatial technology identified in the New Harvesting Technologies Project.
Register your interest in the project
Subscribe to the Skills Impact newsletter to keep informed about project updates and opportunities to provide input and feedback. Make sure to select 'Forestry & Timber' as your industry of interest.
Relevant Occupations
Manager Forester (Operations)
Forest Technician
Forest Operation Supervisor
Production Nursery Manager
Nursery Supervisor
Project Team
Timeline
Oct 2020
Initial scoping
Nov 2020 – Apr 2021
Development of draft qualifications, skill sets and units
May – Jun 2021
Drafts available for broad consultation
Jun – Jul 2021
Validation of final drafts
Jul – Sep 2021
Finalisation of Training Package components
Sep – Oct 2021
Independent Quality Assurance, and Edit and Equity review of Training Package components
Oct – Nov 2021
IRC consideration for sign-off and submission for endorsement
Subject Matter Experts 
Subject Matter Experts will be drawn on throughout this project to help review and draft the revised units, skill sets and qualifications.
If you are interested in applying to be a subject matter expert and are able to volunteer your time to this project, please email details of your expertise to gdaian@forestworks.com.au.
Opportunities for stakeholder input
Stakeholder input is appreciated throughout the duration of this project. The documents will be drafted in consultation with a Steering Committee, Subject Matter Experts and their networks. Opportunities to provide targeted feedback will occur when the draft materials are made available in May – June 2021, and again for validation of final drafts in July 2021. However, your feedback is welcomed at any time, and will help us in drafting the qualifications, skill set and units. It is important that training provides a skilled and flexible workforce for the future. The qualifications, skill sets and units need to reflect real work experience. So if you work in the sector, Skills Impact would love your input and help. Please feel free to register your interest for project updates and consultation opportunities by following the newsletter subscription link below. Alternatively, please feel free to contact the project manager, Georgiana Daian on 0413 660 987 or gdaian@forestworks.com.au.
Stakeholder Consultation Process
A list of key stakeholder organisations has been identified for this project. Skills Impact will ensure contact is made with each of these organisations during the development of this project to seek their involvement and their views on the draft qualifications, skill sets and units.
If you are aware of an organisation that you think should be involved, please contact the project team to ensure they are contacted by us.
Of course, all and any interested industry participants are encouraged to engage in the consultation of this project, when the draft qualifications, skill sets and units are available for feedback via this webpage and workshops that take place around Australia. Consultation is not limited to the organisations on this list. This list simply helps us to identify those organisations that, because of their industry role, size or specialty, are likely to have a key interest in the development and outcomes of this project.
Development
This stage has not yet commenced
Drafts Available
This stage has not yet commenced
Validation
This stage has not yet commenced
Finalisation
This stage has not yet commenced