Horse Education Project
Menu: Click across the green arrows to view active and completed project stages. Consultation takes place at every stage of the project.
Case for change
During public consultation for the development of the 2017-2020 IRC Skills Forecast and proposed Schedule of Work, and during the recent Safety in Equine Training project it became apparent that there are no specific units that describe the work undertaken by horse trainers to educate horses (i.e. the process that a person undertakes to ensure a horse is educated so that it is able to be safely ridden for either racing or recreational purposes).
In addressing these skill needs, this project will identify and fill gaps in current qualifications, skill sets and units of competency from the ACM Animal Care and Management Training Package. Development of units that cover the work roles associated with the tasks of horse education will support a process for trainee horse educators to be taught the skills and knowledge in how to educate horses with the highest level of animal welfare standards, whilst also supporting the safety of the learners undertaking their training.
Also being reviewed and developed as part of this project are skills around horse branding and identification, and horse transport.
Skills Impact and the Animal Care and Management Industry Reference Committee (IRC) will manage this project, consistent with the 2012 Standards for Training Package Development.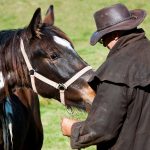 Register your interest in the project
Subscribe to the Skills Impact newsletter to keep informed about project updates. Make sure to select 'Animal Care and Management' as your industry of interest on the subscription form.
Project Plan
This stage has not yet commenced
Development
This stage has not yet commenced
Drafts Available
This stage has not yet commenced
Validation
This stage has not yet commenced
Finalisation
This stage has not yet commenced