Skills Forecast
This year's Annual Update to the IRC Skills Forecast and Proposed Schedule of Work (Skills Forecast) proposes two key projects for 2020 – 2021 and identifies specific changes to the industry environment.
Thank you to those who provided feedback.
Your feedback was considered to finalise the document that was submitted from the IRC to the Australian Industry and Skills Committee (AISC). The information in the Annual Update will be used to update the AISC National Schedule of training package development projects.
Proposed projects are summarised in the grey box below. This year's Annual Update includes information about employers' use of training packages and qualifications, barriers to hiring apprentices and trainees, and reasons behind non-completion rates. It also looks at alternative training being delivered, some of which draws on the training package, but is not delivered by registered training organisations.
Feedback was collected between 27 March – 20 April 2020, via the online feedback hub, email and phone.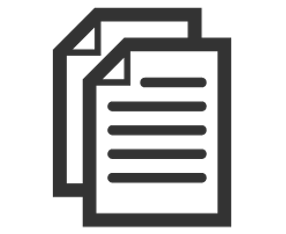 Click here to download the final document
If you would like to view the draft version that was available for feedback, including any comments made Click here
What is a Skills Forecast?
Skills Forecasts describe industry trends, opportunities and challenges, and identify skills gaps and emerging skills needs. They propose a four year plan for reviewing and developing relevant units, skill sets and qualifications across a training package. They are created once every three years, but are updated annually. The Annual Updates identify any specific changes to the industry environment, and to address current priority issues.
Every year in April, the full Skills Forecast or Annual Update is submitted by the relevant IRC to the Australian Industry and Skills Committee (AISC). The AISC advises Commonwealth and State Industry and Skills Ministers on the implementation of national vocational education and training policies, and approves nationally recognised training packages.
The AISC draws on this information to update their AISC National Schedule, and to determine future Training Package Projects. View current projects, that have been approved out of previous Skills Forecasts.
Current Skills Forecast
2019 – 2022 Skills Forecast
(click here to see the draft document that was available for feedback from 14 March – 11 April 2019, including any comments made)
Skills Forecasts Archive
2016 – 2019 Four Year Work Plan
Please note: IRC Skills Forecasts were previously called Four Year Work Plans.
Proposed Schedule of Work
2020-21
Project 1: Equine Care Careers
There are transferable skills across a variety of sectors involved in the care of equines. It is recommended that existing qualifications and skills standards are reviewed and repackaged to enable a variety of job outcomes and reduce complexity in the VET system. To achieve this, a 'job family' is being proposed by the IRC to reflect the 'equine care' sector, which groups a range of current and emerging occupations, such as performance horse (equestrian events), rescue centres, sanctuaries, agistments, and allied health services (massage, body workers, saddle/equipment fitting, dentistry). Skills standards in these sectors would also be revised to meet industry expectations for practical skills in handling traditional and modern equine tools, horse safety, horse behaviour and horse welfare.
Project 2: Pre-Requisite Barriers To Training
The aim of this project is to remove barriers to training and to strengthen skills in horse safety, behaviour and welfare. Extensive industry consultation and feedback from the IRC-led Equine Industry Survey has suggested that pre-requisite units should be removed. More effective on-going learning could be achieved by embedding horse safety, behaviour and welfare skills in every practical unit of competency. This will negate the need for pre-requisite units and remove barriers to developing specialist skills and knowledge. It will also ensure the robustness and consistency of training, and will reflect the holistic approach to equine welfare that survey participants overwhelmingly demanded.
2021-22
Project 1: Development of Training Products for Animal Care and Management Workers in Remote Areas
Undertake training product development as required based on the research project undertaken in 2020-2021.
Project 2: Review of Allied and Value-Add Animal Health Trades and Qualifications
This project will follow on from the demand for these services identified as part of the 'Equine Care Careers' project in 2020-21. It will include a review of skills standards in the animal care sectors outside of equine, to incorporate or update training in areas that complement veterinary services, such as rehabilitation, physiotherapy, massage and premium animal products.
2022-23
Project 1: Quarantine and Biosecurity
Review of the ACM Training Package based on updated regulations, and work undertaken in cross sector and other Training Package projects on biosecurity, quarantine and related areas.
Equine Industry Survey
Extensive industry consultation takes place to develop and revise Skills Forecasts and the Annual Updates. Thank you to everybody that has taken the time to input to the draft document so far. In the second half of 2019, Skills Impact conducted a survey on behalf of the Animal Care and Management IRC.
The aim of this survey was to determine the types of horse care services that are undertaken, who is carrying out this work and how, and the skills and knowledge workers and owners possess and, perhaps, develop (whether through formal qualifications or on-the-job experience). The results of this survey was used to inform the Annual Update, along with the information and feedback gathered through the interactions with many of you, and desktop research.
The survey received 546 responses.
Key findings
The highest-use services are provided by equine dentists, farriers, chiropractors, massage therapists, saddle-fitters, nutritional advisors, physical therapists and clippers (not including veterinary appointments or equine dentists).

External providers carry out 88% of these services.
There may be an emerging sector in Emmett/Bowen Therapy.
Service providers are generally selected based on personal recommendations (including word of mouth) and their credentials (including qualifications).
There is a significant concern over the quality of service providers and the nature of their credentials (e.g. whether obtained through a short course or from a full program of study).

Almost all horse carers/owners make appointments with equine dentists.

Most equine dentistry services are carried out by equine dental technicians, but veterinarians also provide related services (either solo or in conjunction with technicians).
Most equine dentistry involves the use of manual tools only.
Approximately 27% of equine dentistry involves the use of motorised tools, usually with the horse being sedated.
It remains unclear how often sedation is administered by someone who is not a veterinarian.

All services are significantly more difficult to identify and arrange in regional, rural and remote (RRR) areas, and many are of questionable quality.
There are urgent skills needs in equine-related industries, especially for horse care and welfare.
There continue to be specific labour force shortages, especially regarding farriers and track riders. These shortages are sometimes addressed by unqualified service providers, who are of varying quality.
Download Equine Industry Survey Report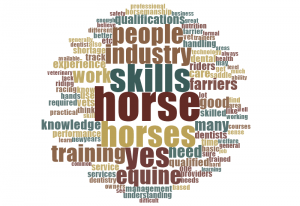 Development Process of IRC Skills Forecasts