Dairy & Milk Harvesting Project
Menu: Click across the green arrows to view active and completed project stages. Consultation takes place at every stage of the project.
Case for change
The milk harvesting industry has changed a lot in the past 50 years or so, it was not so long ago that farmers were hand milking. Today, most farmers are using milk harvesting machines, operating in herringbone and rotary sheds, with a smaller number of robotic sheds emerging. The uptake of new robotic and automated milking technology is expected to increase in the coming years as the technology becomes more accessible and affordable.
Milk harvesting techniques are a unique set of skills, integral to the collection and production of Australian dairy and milk products. It is important to update the national units of competency to support the next generation of farmers.
The review of skills standards for dairy and milk harvesting was identified as a key skill priority in the Agriculture, Horticulture and Conservation and Land Management IRC Skills Forecast and Proposed Schedule of Work 2019-2022 (see page 3).
The Australian Industry Skills Committee (AISC) approved this project, out of the 2020 Annual Update to the IRC Skills Forecast (see pages 63-67).
The Agriculture and Production Horticulture Industry Reference Committee (IRC) will oversee this project as part of their responsibility to support engagement with the sector, and to ensure the project meets industry stakeholder needs.
Skills Impact will manage this project, consistent with the 2012 Standards for Training Package Development.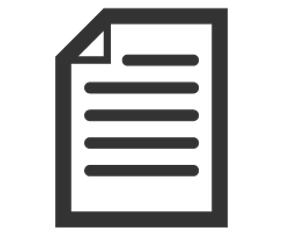 Download Project Proposal (see pages 63-67)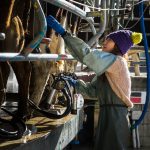 Register your interest in the project
Subscribe to the Skills Impact newsletter to keep informed about project updates and opportunities to provide input and feedback. Make sure to select 'Agriculture, Horticulture, Conservation and Land Management' as your industry of interest.
Project Plan
Australia's dairy and milk industry directly employed around 46,200 people and generated $4.4 billion in farm gate value in 2018-19 [source]. Farms range in size from small niche herds of goats, camel, buffalo and sheep, through to large dairy businesses with more than 3,000 cattle. The future is interesting, with developments in robotic technology and automatic milking systems. Innovations in the industry have seen farmers progress from manual milking methods, to adopting machinery in herringbone and rotary sheds, through to these new robotic technologies. There will be a need for a wider range of skills in this industry with the introduction of new technologies. At the same time, traditional work practices remain valuable in various farm settings. This project will look at the skills and knowledge required to operate the vast array of technologies, across dairy harvesting operations of various sizes and contexts.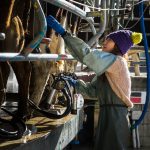 Technology in this industry is developing rapidly. The use of precision dairy technologies has been increasing over the past two decades. Dairy Australia reports that between 30% to 40% of Australian dairy farms have installed automatic cup removers. Some farmers are also using automated mastitis detection systems. The benefits of these technology include improved productivity, working environment and hours, encouraging greater retention of staff. The Agricultural Workforce Digital Capability Framework will be applied by industry experts to define and identify the digital skills requirements for milk harvesting, across the various technologies available.
The Australian dairy industry is dedicated to the skills development of its future workforce. A new Dairy Passport has been launched by Dairy Australia and supported by the Victorian Government, under the Agriculture Workforce Plan.
While there is a need for updated technical and digital skills, the industry still has farmers utilising more traditional methods. Several businesses have also identified ways to add value to their milk harvesting operations, producing milk products onsite. Whether these producers are using traditional hand milking methods or machinery, skills and knowledge are required in biosecurity and animal welfare. A relaxed animal, correct cooling and storage of milk and plant hygiene practices contribute to greater quality and quantities of milk.
The national skills standards and qualifications for the dairy and milk harvesting industry will be reviewed with industry experts and consultation with farmers across Australia to ensure they reflect the current and future work practices of industry.
Project Scope
This project will review existing units of competency for dairy and milk harvesting in the AHC Agriculture, Horticulture and Conservation and Land Management Training Package to ensure they reflect current techniques, practices and technology.
Register your interest in the project
Subscribe to the Skills Impact newsletter to keep informed about project updates and opportunities to provide input and feedback. Make sure to select 'Agriculture, Horticulture, Conservation and Land Management' as your industry of interest.
Relevant Occupations
Dairy Farm Worker
Dairy Farm Manager
Dairy Farm Owner
Share Milker
Industry Sectors
Milking cows
Milking sheep
Milking goats
Milking buffalo
Milking camels
Timeline
September/October 2020
Initial scoping
November/December 2020
Development of draft qualifications, skill sets and units
January/February 2021
Drafts available for broad consultation
March/April 2021
Validation of final drafts
June 2021
Finalisation of Training Package components
July/August 2021
Independent Quality Assurance, and Edit and Equity review of Training Package components
September 2021
IRC consideration for sign-off and submission for endorsement
Project Team
Opportunities for stakeholder input
Stakeholder input is appreciated throughout the duration of this project. The documents will be drafted in consultation with Subject Matter Experts and their networks. Opportunities to provide targeted feedback will occur when the draft materials are made available in January/February 2021, and again for validation of final drafts in March/April 2021. However, your feedback is welcomed at any time, and will help us in drafting the qualifications, skill set and units.
It is important that training provides a skilled and flexible workforce for the future. The units need to reflect real work experience. So, if you work in the sector, Skills Impact appreciates your input and assistance.
Those working in the dairy and milk harvesting sector are invited to engage with this project. Please register your interest in project updates and consultation opportunities by following the newsletter subscription link. Alternatively, contact the project manager, William Henderson on whenderson@skillsimpact.com.au or 03 9321 3526.
Note: Due to COVID-19 restrictions, Webinars will be held to replace the face-to-face consultation workshops Skills Impact would usually host around Australia.
Stakeholder Consultation Process
A list of key stakeholder organisations has been identified for this project based on their industry role, size or specialty. Skills Impact will ensure contact is made with each of these organisations to seek their involvement and views on all draft skill sets and units. Consultation is not limited to the organisations on this list, they have simply been identified as the most, likely to have a key interest in the development and outcomes of this project
If you are aware of an organisation that you think should be involved, please contact the project team to ensure they are contacted by us.
Development
This stage has not yet commenced
Drafts Available
This stage has not yet commenced
Validation
This stage has not yet commenced
Finalisation
This stage has not yet commenced