Industry Overview
The agriculture and production horticulture industry is responsible for growing livestock and crops, including food production for local and international consumers. Australian farmers and horticulturalists have shown their resilience again and again, adapting to the challenges presented by local and international agreements and markets, and natural events such as drought, fire, floods, and the 2020 COVID-19 pandemic. This has highlighted the necessity of agricultural skills and knowledge to maintain Australia's food security and support the economy. Industry is developing further skills in new and emerging food sources, sustainability, farm management, digital literacy and compliance to tackle the challenges and pursue new opportunities. Australian agriculture accounts for 58% of Australian land use (385 million hectares). Due to agricultural production, Australia is one of the most food secure countries in the world: we produce more food than we consume, exporting around 70% of farm products.
Between 2016 and 2022 Industry Reference Committee (IRCs) were the formal channel for considering industry skills requirements in the development and review of training packages. In 2023, Jobs and Skills Councils will be established to support a greater voice to industry in its skills and training needs.
The Agriculture and Production Horticulture Industry Reference Committee (IRC) was one of two IRCs that represented the broader Agriculture, Horticulture, Conservation and Land Management Industry. The other IRC was the Amenity Horticulture, Landscaping and Conservation and Land Management IRC. The Agriculture and Production Horticulture IRC broadly covered the following primary productions sectors:
Livestock production
 Broadacre cropping and mixed farming
Floriculture production
Fruit, vegetable, cut flowers and nut growing
Agricultural support services
Agricultural irrigation
Agricultural chemicals
Download the 2021-22 Year in Review for Agriculture, Horticulture, Conservation and Land Management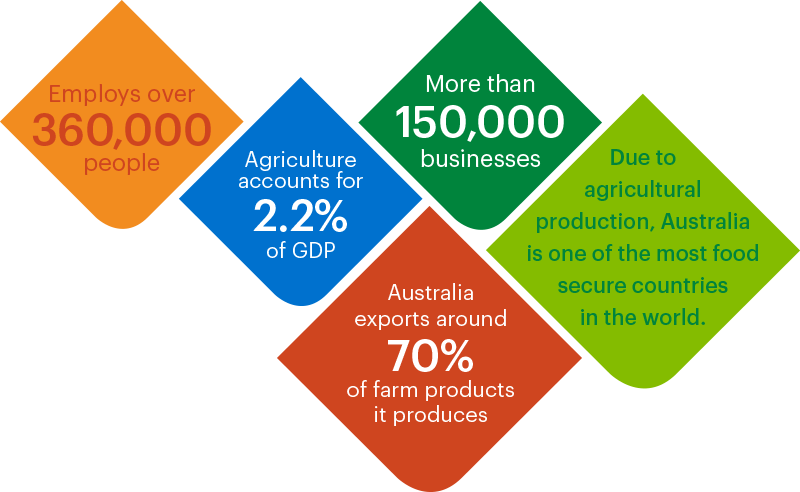 Want to know more about the work to improve skills standards for this industry?
Industry trends, challenges and opportunities were gathered through consultation with industry stakeholders and research to determine the skills industry will need in the future. They were documented in Skills Forecasts, which the Australian Industry and Skills Committee considered to determine future training package (skills standards) projects. Each project was overseen by the relevant Industry Reference Committee (IRC) and managed by Skills Impact. Click on the menu to the left for more information about the IRC, projects undertaken, Skills Forecasts, as well as units, skill sets and qualifications within the Training Package.
Statistics sourced: ABS, 2020, 6291.0.55.003 – Labour Force, Australia, Detailed, Quarterly, May 2020; EQ06 – Employed persons by Industry group of main job (ANZSIC), Sex, State and Territory, November 1984 onwards (Pivot Table); IBISWorld Industry Wizard, 2020; ABARES, 2020, Insights: Snapshot of Australian Agriculture 2020; and ABARES, 2020, Insights: Australian food security and the COVID-19 pandemic.