Current Research Activities
The research activities and projects described on this webpage are carried out as part of our everyday engagement with industry and training providers, our formal work supporting Industry Reference Committees (IRCs), and the research and development for Skills Forecasts and their Annual Updates.
These research activities provide further insights into lifting the already impressive performance of the VET sector.
Quick link to each activity or project
Improving Access to Training in the Agricultural, Horticultural & Forestry Industries
This project addresses challenges and solutions outlined under the theme of Thin Markets and RTO Delivery Challenges.
Project Goal
To improve access to training in the following industries by identifying barriers to uptake and testing mechanisms that will address the challenges.
Agriculture and horticulture
Pulp and paper
Forestry and timber
The horticultural and agricultural industries make interesting case studies, because some qualifications have high uptake, whilst others do not. What drives this difference in participation level? What are the challenges preventing RTOs from delivering the qualifications? Hundreds of industry stakeholders volunteered their time and provided extensive input into the development of the qualifications and skills standards in the AHC Agriculture Horticulture and Conservation and Land Management Training Package. So, why do the training numbers not reflect this same level of engagement? One obvious trend is the difference in uptake of training that can occur in a city or main centre compared to uptake in regional, rural and remote areas. The largely rural nature of the work in these sectors means it can be expensive to deliver and therefore not providing an appealing market for RTOs.
In the pulp and paper sector, employers cannot find an RTO willing to deliver the training they require. The pulp and paper sector is specialised, and a thin market. Delivery is expensive and high risk for RTOs. So, training necessarily occurs on-the-job, provided by in-house subject matter experts, often utilising national training package products to design activities.
Methodology
The project team is working with employers, current and potential learners, RTOs, trainers and assessors to identify the challenges to accessing training. They will consider regional and industry variations, including business size and geographic concentration.
The project team, including staff from ForestWorks and the National Farmers Federation, will consider possible solutions to overcome or reduce barriers. The project will produce one or more reports, with information and points of view about the best means to address issues with the VET market, including market failures, as well as extrapolating the findings to other thin markets.
Progress to date
Collected key documents for literature review and developed initial coding for analysis
Engaged research personnel
Developed stakeholder engagement plan
Established interview questions and protocols
Interviewed groups of staff from five RTOs that deliver agricultural training
Issued 50 invitations to participate in our research to 25 agricultural organisations
Conducted 15 virtual meetings with employees of industry organisations and RTOS
Conducted in-depth qualitative interviews with industry representatives, with more interviews scheduled
How you can get involved
To find out more and have your say please contact us.

A Potential Solution for Improved Training Products
Project Goal
Skills Impact's research into the concept that Competency is a Journey tells us that competency can not only be achieved through institutional learning but also requires workplace-based practice over a significant period. Workplace practice and classroom learning are both important components of the competency equation.
Learning that takes place in an institution is nearly always formally recognised but recognition of the significant body of learning that takes place in the workplace rarely happens outside of an apprenticeship or traineeship.
This project will produce sets of exemplar materials that will show how to move the development and recognition of learning and assessment from institution-only in to the workplace, in partnership with RTOs.
Methodology
Groups of units of competency and skill sets are being analysed to identify the parts RTOs can deliver and the parts workplaces could deliver or assess against.
Support materials for industry, such as in-house checklists, procedures and learning materials, will be produced appropriate to each situation. The materials will cover a number of industry sectors and will be contextualised for each user group in terms of layout, content and language.
To read more about how this model could work, click here.
Progress to date
Units of competency identified
Desktop analysis commenced
How you can get involved
Skills Impact is aware that some businesses already use units of competency to create in-house checklists, procedures and learning materials. If you do this in your business we would very much like to hear from you.
Please contact us to find out more and have your say.

VET Improvements Survey
Summary of findings available shortly
Skills Impact took some ideas for VET system improvement that our IRCs and stakeholders have shared with us and asked Griffith University to compile a short, anonymous survey to help test whether the issues are important enough to be on the table of VET policy makers.
Thank you to everybody that took part in this survey. Over 550 responses were received between April and August 2020.
Griffith University are analysing the data and will report on the findings once this analysis is complete.
Further VET Research Projects
Alongside the current research described above, Skills Impact has scoped four additional projects and is seeking opportunities and/or partners to begin work on these projects, in part or in full, over the next 12 months.
Redefining careers in the agriculture and horticulture industries
More than just a farmhand
In 2019 the National Farmers' Federation released a bold plan (Roadmap 2030) for Australian Agriculture to reach a farm gate return of $100 billion turnover by 2030. Everyone involved in agriculture is invited to help them achieve the goals outlined in this Roadmap. As an organisation that works describing occupations and job roles every day, we are interested in the goal (or Pillar) 4.1 "There is a clear career pathway to attract workers and develop their skills, with tailored streams for new entrants through to seasoned professionals" and in particular subgoal 4.1.3 "Establish a nationally consistent, 'trade-equivalent' job brand for skilled farm worker". If 4.1.3 is achieved it will help to provide greater clarity skilled on-farm roles and therefore a pool of qualified, skilled labour.
We would like to conduct a comprehensive project, with the tag line "More than just a farmhand", to directly address this subgoal. The job title "farmhand", has been used for centuries, but does not capture the breadth of the modern-day role. For example, a farmhand working with livestock may take part in activities related to animal health and welfare, nutrition, biosecurity, aerial monitoring and transport but this role diversity is not well described, nor known beyond the farmgate.
There is recent work in the dairy, horticulture and wool growing sectors to describe occupations critical to these sectors, but to our knowledge, no-one has looked at this information cross-industry for consistency and cross-sectoral and transferrable skills. Careers in agriculture will be far easier to develop with clear pathways showing how skills can be transferred from role to role, and sector to sector.
Through extensive industry consultation we would identify the majority of occupations and descriptions used in agriculture and horticulture and analyse this data so as to better define, categorise and describe occupations and job roles.
Additionally, the occupations and job roles would be mapped to courses and qualifications in both the vocational and university sectors. The mapping will help to build career pathways so that new entrants, excited about a career in a sector, can find the training they need to get there.
The project outcomes would help educate prospective employees, career practitioners, job agencies, trainers and industry employers about innovative and emerging careers in horticulture and agriculture, with the objective being to encourage new workers to choose a career in the agriculture and horticulture industries.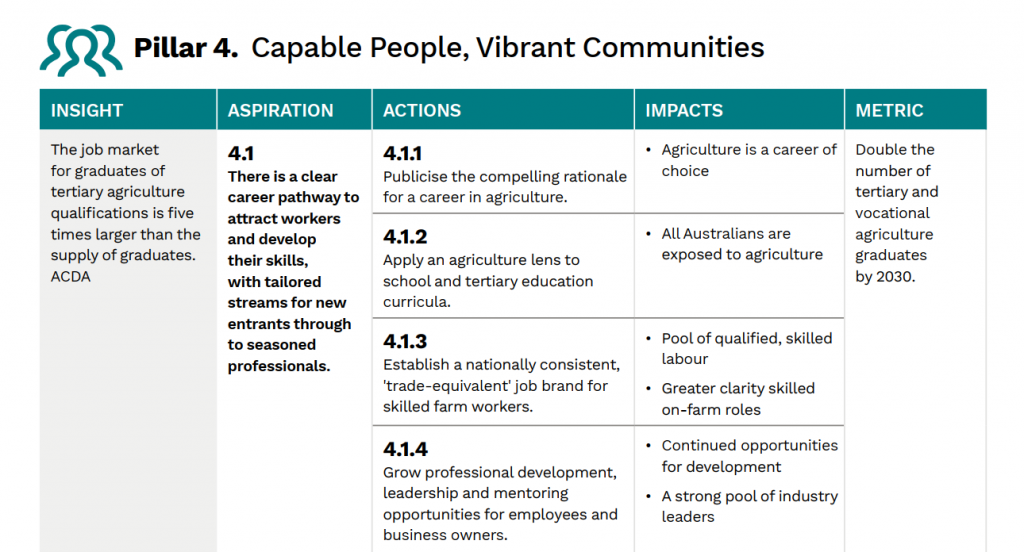 In summary, this project could:
Conduct research on occupations and job roles
Engage with industry groups to define, standardise and refine occupational descriptors
Map job roles to training opportunities and to ANZCO codes
Provide public access to the dataset
Encourage and support industry to use of the above information in job advertisements
Promote information into schools and to careers practitioners
Pathway Visibility: Understanding Thin Markets in VET
Pathway Visibility would be a deep-dive research project to be conducted by Skills Impact to determine how careers information and advice provided on the MySkills website impacts the demand for and availability of specialist industry qualifications or those only needed every so often.
Skills Impact would work collaboratively with IRC, employers and RTOs to use research findings to close the gap between supply and demand for skilled workers in thin markets.
The research project would provide a basis for the creation of a feedback loop to RTOs on unmet demand for specialised industry skills and improve the accuracy and usefulness of online information for career pathways.
AgriBlocks – Agriculture and Horticulture Career Builder
Skills Impact would like to build a new application to encourage new entrants to explore and build careers pathways in agriculture and horticulture. The app could contain an individual's experience, skills, training and micro-credentials to create the building blocks for their career. Employers could use this app to view, at a glance, the experience of a prospective employee and new entrants will explore job roles and identify the pathways to get there.
This app would be developed in partnership with the Agriculture and Production Horticulture IRC and
Amenity Horticulture, Landscaping, Conservation & Land Management IRC and the associated membership industry associations. It would be a new and unique approach to attract new entrants and provide support for employers and students in rural, regional and remote Australia.
Careers as a Journey to Competency
Career and competency development both happen as a journey throughout a person's working life. Learning that takes place in an institution is nearly always formally recognised but recognition of the significant body of learning that takes place in the workplace rarely happens outside of the apprenticeship system.
Skills Impact would like to conduct two pilot programs whereby employers are supported to be able to train and assess employees as being competent in the workplace and employees will receive statements of attainment, micro-credentials or qualifications for their on-the-job learning.
Pilots would be run in regional, rural and remote areas of Australia using partnerships between agricultural businesses and employees and local RTOs to fill competency gaps.
Subscribe to updates
Subscribe to the Skills Impact newsletter to keep informed about updates and opportunities to provide input.