Poultry Processing Project
Menu: Click across the green arrows to view active and completed project stages. Consultation takes place at every stage of the project.
C
Poultry processing in Australia has become increasingly consolidated, with small and medium operators either merging or being integrated into larger businesses. At the same time, demand for poultry products is high. With pressure to keep up with consumer tastes while maintaining the standard of their products, these larger businesses are becoming more and more automated in their processes.
While automation offers many advantages, updated training opportunities are needed to support the skills needed to work with automated processes. Despite the high popularity of poultry products, there is no nationally endorsed qualification specifically for poultry processing. As such it would be beneficial to develop skill sets in this area, making relevant training more accessible to the industry.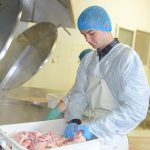 The Australian Industry and Skills Committee (AISC) approved this project via a Case for Change submitted by Skills Impact in 2019 on behalf of the Meat IRC.
Skills Impact and the Meat Industry Reference Committee (IRC) will manage this project, consistent with the 2012 Standards for Training Package Development.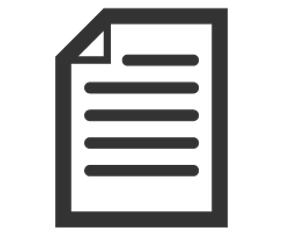 Download Project Proposal (see pages 43-45)
P
Poultry meat is a popular choice with Australian consumers and demand is on the rise. "In Australia, poultry consumption is almost double that of beef, with pork almost at parity, and both are forecast to grow at a faster rate over the next three years" (Meat and Livestock Australia). This presents poultry companies with the challenge of increasing their output, while upholding compliance to strict food safety and hygiene regulations and maintaining consistent quality and portion control.
At the same time, the Australian poultry processing industry has become increasingly consolidated, with more and more small and medium size operations either merging with or being absorbed by larger companies. To meet the strong demand for poultry products, these companies are increasing automation throughout the entire processing line. Most suppliers now offer modular solutions to all aspects of the processing sequence, which can be customised and adjusted to individual processor requirements.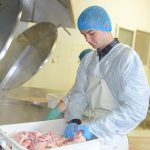 With these automated methods, companies can increase the yield and efficiency of production, as well as improving food safety by reducing the risk of cross contamination and reducing the risk of employee injury from repetitive tasks. However, this shift in methods means new skills are needed to work with automated systems and ensure its operating smoothly. Increased access to nationally endorsed training options would support the poultry industry as it works to keep up with the growing demand for its products.
Project Scope
This project involves the development of up to five new skill sets and up to three units of competency to address current gaps in poultry processing training.
The remaining units that make up the skill sets may include current units from the Australian Meat Processing and Food, Beverage and Pharmaceutical training packages. These units will be reviewed for suitability during this project.
Register your interest in the project
Subscribe to the Skills Impact newsletter to keep informed about project updates and opportunities to provide input and feedback. Make sure to select 'Meat Processing' as your industry of interest on the subscription form.
Relevant Occupations
Meat processing worker – poultry processing
Quality assurance officer – poultry processing
Project Team
These units specifically relate to poultry processing:
A unit to cover monitoring product flow in an automated process
A unit to cover packing and packaging of bulk product (whole bird) and also packing of portions (drumsticks, legs, wings etc.), fillets, eviscerated products (necks, giblets, hearts, liver) (this may need to be two separate units).
A Quality Assurance Skill Set
A pre-processing Skill Set: covering bird receival, hanging, stunning, killing, scalding, defeathering and evisceration
A processing Skill set covering: washing, chilling, grading, portioning, packaging and chilling or freezing
A further processing skill set: i.e. packing and processing of kebabs, schnitzels, roasts, filos (where this is not already available in the FDF package)
Consideration will also be given to the possible development of a skill set to cover waste disposal/environmental awareness.
Timeline
August – September 2019
Initial scoping
September – October 2019
Development of draft skill sets and units
October – November 2019
Drafts available for broad consultation
December 2019 – February 2020
Validation of final drafts
February – May 2020
Finalisation of Training Package components
May – June 2020
Submission for endorsement
Subject Matter Experts
Subject Matter Experts will be drawn on throughout this project to help review and draft the revised units and qualifications.
If you are interested in applying to be a subject matter expert and are able to volunteer your time to this project, please email details of your expertise to sfitzgerald@mintrac.com.au
Opportunities for stakeholder input
Stakeholder input is appreciated throughout the duration of this project. The documents will be drafted in consultation with Subject Matter Experts and their networks. Opportunities to provide targeted feedback on first drafts will occur in October and November 2019, and for the validation of final drafts between December 2019 and February 2020. The qualifications, skill sets and units need to reflect real work experience. So if you work in the sector, Skills Impact would be grateful for your input and help. Please feel free to register your interest for project updates and consultation opportunities by following the newsletter subscription link below. Alternatively, please feel free to contact the project manager, Sharon Fitzgerald on 0408 612 883 or sfitzgerald@mintrac.com.au
Stakeholder Consultation Process
A list of key stakeholder organisations has been identified for this project based on their industry role, size or specialty. Skills Impact will ensure contact is made with each of these organisations to seek their involvement and views on all draft skill sets and units. Consultation is not limited to the organisations on this list, they have simply been identified as the most likely to have a key interest in the development and outcomes of this project. If you are aware of an organisation that you think should be involved, please encourage them to contact the project team and/or direct them to this webpage.
D
This stage has not yet commenced
C
This stage has not yet commenced
V
This stage has not yet commenced
F
This stage has not yet commenced