Halal Meat Processing Project
Menu: Click across the green arrows to view active and completed project stages. Consultation takes place at every stage of the project.
C
The Australian halal export meat trade is in a strong position, currently valued at $1.6 billion per year and growing. This has a positive impact on the meat processing sector as whole.
To work in halal meat processing, individuals currently undertake a meat processing qualification as well as attaining certification from one of a number of individual organisations. However, this provides a challenge in maintaining a consistent standard of what it means for meat to be halal. There is currently a push towards a single Australian certification system, presenting a need for a unified approach to training. As such, industry is supportive of addressing the skills required for halal meat processing through nationally endorsed training.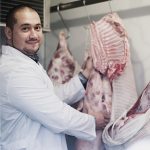 The Australian Industry and Skills Committee (AISC) approved this project via a Case for Change submitted by Skills Impact in 2019 on behalf of the Meat IRC.
Skills Impact and the Meat Industry Reference Committee (IRC) will manage this project, consistent with the 2012 Standards for Training Package Development.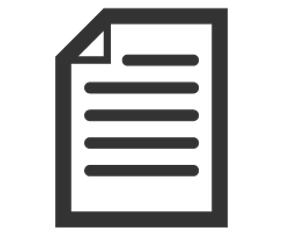 Download Project Proposal (see pages 36-39)
P
Australia has been processing meat for halal markets for many years and demand is increasing, with Australian halal export trade currently valued at $1.6 billion annually (Parliament of Australia). This strong position in the halal market increases farm gate returns, opening up opportunities in international markets.
"Halal certification is required for exports to Indonesia, Malaysia, Iran, Iraq, the United Arab Emirates, Jordan, Kuwait, Bahrain, Brunei, Oman, Qatar, Saudi Arabia and Egypt. These are significant markets for the meat industry and third party certification is instrumental in providing exporters access to these markets." (Parliament of Australia)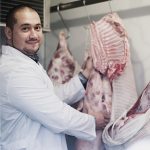 Despite Australia's strong position, variation in halal market requirements is a major challenge. Halal certification provides consumers peace of mind that they know where meat is coming from, how it has been handled and whether it matches their religious beliefs. It's vital that halal procedures are consistent in order for meat to pass halal market audits and become available on the market. Traditionally, employees working in halal processing have needed to obtain certification from one of a number of Islamic organisations in addition to holding an existing meat processing qualification. However, there is a push from industry to move towards a single Australian halal certification system to support consistency in halal meat products.
Consultation with the meat processing industry will continue throughout the life of this project to review and develop skills standards in halal meat processing, across all relevant parts of the supply chain. This will allow the industry to support skills in line with Australian certification standards and to demonstrate halal compliance to international markets.
Project Scope
The project will address the need for a unified training approach to halal meat processing, considering units of competency included in the Certificate III in Meat Processing (Slaughtering) and (Quality Assurance) and Certificate IV in Meat Processing (Quality Assurance) and developing new units of competency and skill sets as necessary. Transferability to other livestock and food sectors will be considered during the review and development.
Register your interest in the project
Subscribe to the Skills Impact newsletter to keep informed about project updates and opportunities to provide input and feedback. Make sure to select 'Meat Processing' as your industry of interest on the subscription form.
Relevant Occupations
Project Team
Timeline
August – September 2019
Initial scoping
September – October 2019
Development of draft skill sets and units
October – November 2019
Drafts available for broad consultation
December 2019 – February 2020
Validation of final drafts
February – May 2020
Finalisation of Training Package components
May – June 2020
Submission for endorsement
a unit to cover slaughtering in accordance with Halal requirements (to be delivered by Authorised Islamic Organisations)
a unit to address the specific requirements of conducting a Halal audit
a unit for Quality Assurance managers to identify and address different Halal market requirements, including certification
a unit for involved non-Muslims covering the need to understand Halal requirements, and the Halal production process.
Subject Matter Experts
Subject Matter Experts will be drawn on throughout this project to help review and draft the revised units and qualifications.
If you are interested in applying to be a subject matter expert and are able to volunteer your time to this project, please email details of your expertise to sfitzgerald@mintrac.com.au
Opportunities for stakeholder input
Stakeholder input is appreciated throughout the duration of this project. The documents will be drafted in consultation with Subject Matter Experts and their networks. Opportunities to provide targeted feedback on first drafts will occur in October and November 2019, and for the validation of final drafts between December 2019 and February 2020. The qualifications and units need to reflect real work experience in order to ensure training provides a skilled and flexible workforce for the future. As such, your feedback is welcome at any time, to assist in the development of appropriate draft documents.
If you work in the sector, Skills Impact would appreciate your input. Register your interest to receive project updates and information about consultation opportunities by following the newsletter subscription link below. Alternatively, please feel free to contact the project manager, Sharon Fitzgerald on 0408 612 883 or sfitzgerald@mintrac.com.au
Stakeholder Consultation Process
A list of key stakeholder organisations has been identified for this project based on their industry role, size or specialty. Skills Impact will ensure contact is made with each of these organisations to seek their involvement and views on all draft skill sets and units. Consultation is not limited to the organisations on this list, they have simply been identified as the most likely to have a key interest in the development and outcomes of this project
If you are aware of an organisation that you think should be involved, please contact the project team to ensure they are contacted by us.
D
This stage has not yet commenced
C
This stage has not yet commenced
V
This stage has not yet commenced
F
This stage has not yet commenced