Diploma & Advanced Diploma in Meat Processing Project
Menu: Click across the green arrows to view active and completed project stages. Consultation takes place at every stage of the project.
C
Given the unique and challenging environment of meat processing it is essential that those in management positions are equipped with industry specific expertise. The Diploma and Advanced Diploma level qualifications currently contain some imported units that support general management and leadership skills where appropriate. However, some of these units have now been updated and are no longer meet the needs of the meat processing industry. These two qualifications require review to identify where other imported units may be suitable or where new units could be developed.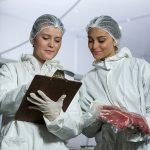 Increased automation and use of big data are having a significant impact on the meat processing industry across all job roles, including at a management level. Skills are required in managing teams as they deal with technological advancements, including managing facilities and products, as well as legal and financial concerns. Expertise is also needed at a leadership level to identify opportunities and challenges, including managing change, developing strategy and establishing new markets.
The Australian Industry and Skills Committee (AISC) approved this project via a Case for Change submitted by Skills Impact in 2019 on behalf of the Meat IRC.
Skills Impact and the Meat Industry Reference Committee (IRC) will manage this project, consistent with the 2012 Standards for Training Package Development.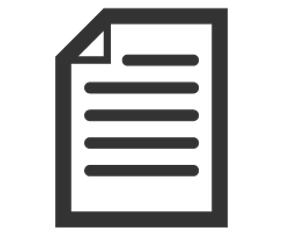 Download Project Proposal (see pages 31-35)
P
Australia is a major figure in the global meat market, as well as being one of the largest per capita consumers of beef and sheep meat in the world. It's no surprise then that red meat processing plays a significant role in the Australian economy, employing 438,100 people in 2016-17 (Red Meat Advisory Council). This is a unique and challenging environment with comprehensive regulation governing food safety, quality assurance, traceability, biosecurity, environmental impacts and work health and safety. To maintain a competitive edge and keep up with consumer demand, it's imperative to support skills at a management level to develop business strategy, and identify opportunities and new products. The diploma and advanced diploma level qualifications support the development of skills in management and leadership and are vital to the future of the industry.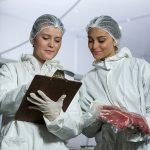 Increased use of automation and big data offer space for innovation in processing methods. As the same time, cientific developments such as cultured and artificial meat present opportunities for new products. The industry requires skills in strategy, product development and marketing in order to take full advantage of these and other opportunities as they arise. Leadership skills are needed to manage the many challenges of the industry, including improvement of animal welfare practices across the supply chain and adherence to the various compliance requirements of international markets.
Consultation with the meat processing industry will continue throughout the life of this project to review the diploma and advanced diploma qualifications and units. A focus of this review will be ensuring the qualifications are broad enough to be used throughout different industry sub-sectors. This is a significant opportunity for the meat processing industry to update skills standards in roles that will steer the industry into the future.
Project Scope
This project will undertake a comprehensive review and updating of:
AMP50215 Diploma of Meat Processing
AMP50115 Diploma of Meat Processing (Meat Retailing)
AMP60115 Advanced Diploma of Meat Processing
Twenty-eight current units of competency will be reviewed for suitability, and up to ten additional units will be either imported or where necessary developed to meet industry skill requirements.
Register your interest in the project
Subscribe to the Skills Impact newsletter to keep informed about project updates and opportunities to provide input and feedback. Make sure to select 'Meat Processing' as your industry of interest on the subscription form.
Relevant Occupations
Meat processing manager
Meat retailing manager
Meat processing manager – smallgoods
Meat processing manager – poultry processing
Maintenance manager
Feedlot manager
Project Team
Timeline
August – September 2019
Initial scoping
September – October 2019
Development of draft skill sets and units
October – November 2019
Drafts available for broad consultation
December 2019 – February 2020
Validation of final drafts
February – May 2020
Finalisation of Training Package components
May – June 2020
Submission for endorsement
Subject Matter Experts
Subject Matter Experts will be drawn on throughout this project to help review and draft the revised units and qualifications.
If you are interested in applying to be a subject matter expert and are able to volunteer your time to this project, please email details of your expertise to sfitzgerald@mintrac.com.au
Opportunities for stakeholder input
Stakeholder input is appreciated throughout the duration of this project. The documents will be drafted in consultation with Subject Matter Experts and their networks. Opportunities to provide targeted feedback on first drafts will occur in October and November 2019, and for the validation of final drafts between December 2019 and February 2020. The qualifications and units need to reflect real work experience in order to ensure training provides a skilled and flexible workforce for the future. As such, your feedback is welcome at any time, to assist in the development of appropriate draft documents.
If you work in the sector, Skills Impact would appreciate your input. Register your interest to receive project updates and information about consultation opportunities by following the newsletter subscription link below. Alternatively, please feel free to contact the project manager, Sharon Fitzgerald on 0408 612 883 or sfitzgerald@mintrac.com.au
Stakeholder Consultation Process
A list of key stakeholder organisations has been identified for this project based on their industry role, size or specialty. Skills Impact will ensure contact is made with each of these organisations to seek their involvement and views on all draft skill sets and units. Consultation is not limited to the organisations on this list, they have simply been identified as the most likely to have a key interest in the development and outcomes of this project
If you are aware of an organisation that you think should be involved, please contact the project team to ensure they are contacted by us.
D
This stage has not yet commenced
C
This stage has not yet commenced
V
This stage has not yet commenced
F
This stage has not yet commenced