Industry Overview
The timber and wood processing industry is a vital part of the timber supply chain, turning harvested trees into materials that can be used to construct buildings, furniture, flooring, timber products and other items. In keeping up with the high demand for these materials, industry has adopted new technologies and equipment to improve safety, sustainability, and efficiency. High levels of technical skills are required for operating the latest technologies in drying and cutting, including optimisation equipment, allowing industry to continue to supply the high-quality timber that is used to produce some of our most necessary structures and products.
Between 2016 and 2022 Industry Reference Committee (IRCs) were the formal channel for considering industry skills requirements in the development and review of training packages. In 2023, Jobs and Skills Councils will be established to support a greater voice to industry in its skills and training needs.
The Timber and Wood Processing Industry Reference Committee (IRC), along with the Forest Management and Harvesting IRC and Timber Building Solutions IRC, were responsible for national training package qualifications relevant to forest and wood products.
The Timber and Wood Processing Industry Reference Committee covered the following sectors:
Sawmilling and Processing
Saw Technology
Woodmachining
Download the 2021-22 Year in Review for the Forestry and Timber Industry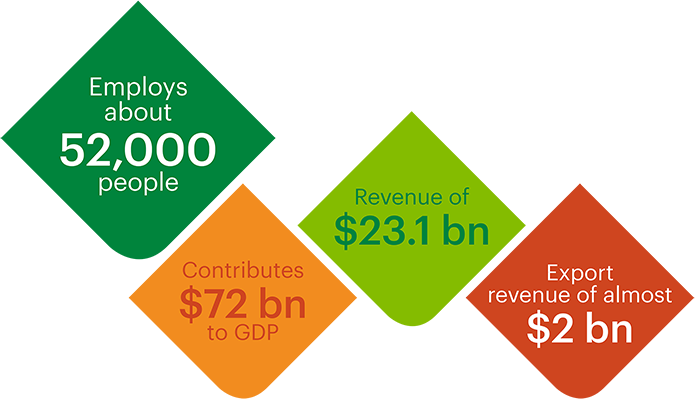 Want to know more about the work to improve skills standards for this industry?
Industry trends, challenges and opportunities are gathered through consultation with industry and research. They are documented in Skills Forecasts, which the Australian Industry and Skills Committee considers to determine future training package (skills standards) projects. Each project is overseen by the relevant Industry Reference Committee (IRC) and managed by Skills Impact. Click on the menu to the left for more information about the IRC, current projects, Skills Forecasts, as well as current units, skill sets and qualifications within the Training Package.
Note: above statistics refer to the whole Forest and Wood Products Industry. (Source: IBISWorld Industry Wizard, 2020)