New and revised qualifications and skills standards to support a wide range of job roles have been finalised and submitted to the Australian Industry and Skills Committee (AISC) for endorsement.
They have been developed as part of three national projects and consultation across the country. We thank the more than 200 industry members who provided detailed feedback and dedicated their time and expertise. It has resulted in qualifications and skills standards that incorporate the essential skills for managing biosecurity issues and threats, advancements in technologies, regulations and compliance.
Once endorsed by the AISC, the new materials will be published on the training.gov.au website making them available for use by registered training organisations (RTOs). More information is available on the individual project pages.
Aquaculture, fishing operations and biosecurity project
Skills Impact has worked with the Australian seafood industry in this review of qualifications, skill sets and units of competency in aquaculture, fishing operations and biosecurity.
While diseases and pests are a constant concern in this sector, job roles are ever evolving in response to technological advancements and shifting market requirements.
"There is a huge expansion of aquaculture and a need for people with high skills for example in Barramundi farms – we do have people with Higher Education qualifications but they still need the work/practical skills for hatcheries". John Manson, NSW Fishing Industry Training Committee and Oyster farmer
As such, the qualifications have undergone significant streamlining and develoment,  to remove redundancies and support skill needs in biosecurity, advanced aquaculture and aquaculture technologies.
Seafood Post Harvest Project
Qualifications relating to job roles in seafood post harvest, including in processing, packing, transporting and selling seafood have been reviewed to address changing technology, regulations and markets.
For instance, the outbreak of white spot virus in Australian prawns in recent years has shed light on the need for more thorough biosecurity measures, particularly in detecting disease or pests during post harvest operations. (read more)
"The problem is, once you have a pest or disease no one wants your product, and therefore it affects both the fishers and the processors alike." Dr Ben Diggles, marine biologist, Digfish Services (source)
As this project shares similar skill needs with the Aquaculture, fishing operations and biosecurity project and many of the units are applicable to both, the two projects have taken place concurrently.
The qualifications, skill sets and units for both projects have been presented together, for ease of reference.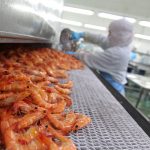 Fishing Compliance Project
Fisheries officers are an integral part of the fishing industry in Australia, working to ensure all commercial and recreational fishing is undertaken in a sustainable way.
The skills for this job role are influenced by advancements in technology, which are changing the way Fisheries Officers manage threats such as illegal, unreported and unregulated fishing activities; and potential biosecurity breaches.
"A fisheries officer's job is a never ending learning curve. There are always changes to legislation, changes in fishing practices and fishing gear. It is important to stay on top of your game. Embrace the changes and keep your knowledge and skills relevant." Lee, District Fisheries Officer, Port Macquarie – Hastings Fisheries Office (Source)
Qualifications, skill sets and units for fisheries compliance have been updated in line with current regulations and technology, supporting the Australian fishing industry and Australian seafood into the future.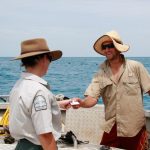 © Image: Department of Primary Industries and Regional Development