Subject Matter Experts are currently being consulted to draft the revised qualifications, skill sets and units of competency. Meetings with these experts are taking place to address feedback that was received during the Workforce Functional Analysis workshops, as well as other feedback that was received in the early 'Project Plan' stage of these projects.
The Workforce Functional Analysis workshops were held during March and April, with people who work directly in the Seafood Industry. These hands on workshops consisted of Q&A sessions and activities to help identify the various job roles and tasks that exist within the seafood industry. Site visits were also undertaken to observe these job roles in workplaces.
Public consultation workshops coming soon!
Thank you to those stakeholders that have been involved and provided feedback and advice so far. The revised draft qualifications, skill sets and units will be made available on the website for public consideration and feedback from July – August 2018. Face-to-face consultation workshops will also take place, across states and territories, with six webinars planned for those unable to attend in person. Registrations for these workshops will be available on the website soon.
Aquaculture, Fishing Operations & Biosecurity Project
A focus of this project is to incorporate skills to address changes in technology, legislative and regulatory requirements and environmental sustainability and management. Qualifications and units of competency directly related to biosecurity are also being reviewed.
Register your interest (to be informed at each project stage and receive details of workshops and consultations)
Visit project webpage
[/span9]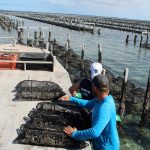 Seafood Post Harvest Project
A focus of this project is to incorporate skills to address changes in distribution, processing, storage, fishing and environmental management.
Register your interest (to be informed at each project stage and receive details of workshops and consultations)
Visit project webpage
[/span9]