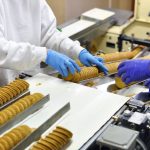 Producing pastry, cakes, biscuits and bread to stock supermarket shelves requires shared core skills, with some unique expertise required for each category of product. With continued high demand, production of these products is also becoming increasingly digitalised and automated, meaning the skills required for the work are changing.
As part of this project, the existing Certificate III in Plant Baking is proposed to be renamed the Certificate III in High Volume Baking. This updated qualification has been designed to incorporate the skills standards for all four sub-sectors (pastry, cakes, biscuits and bread) and to reflect current industry practices and terminology. The documents have been drafted in consultation with subject matter experts, with broader stakeholder feedback collected during the 'Drafts Available' stage in November and December 2020.
They are available for validation, to check that the updated skills standards are accurate and up to date.
To view the documents and provide validation, visit the project page.