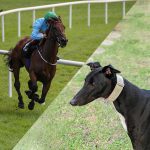 The Racing Industry is seeking to promote uptake of training to support better employment outcomes by broadening career pathways at entry level. A new project is underway to review and update two qualifications in the racing industry with a focus on making qualifications easier to deliver.
The Certificate II in Racing Industry will be reviewed to broaden career pathways and include greyhound racing. It will describe the skills needed by those entering thoroughbred, harness or greyhound racing. This includes skills for understanding animal behaviour and welfare and how to work with racing horses and greyhounds, as well as the skills to work in a manner that is healthy and safe towards themselves and others.
The Certificate IV in Racing (Jockey) will also be revised to reflect the elite racing skills required to race thoroughbred horses. The need for advanced level business skills as core units in the qualification will be considered, as feedback has indicated they do not accurately reflect the role of jockeys, and are causing a barrier to delivery and completion of the qualification.
Draft qualifications will be available for feedback in the next few weeks.
These two unique areas of expertise need to be defined by those with experience in the industry. If you have experience in entry level racing roles or jockeying, your input is encouraged. The qualifications will be drafted in consultation with the Industry Reference Committee and Principal Racing Authorities. They will then become available for your feedback and comments soon.
For more information, visit project webpage