Green walls and rooftops help to cool our cities, manage storm water and improve air quality. These 'living' roofs and walls are growing with popularity, as they offer city residents healthy, environmentally responsible buildings. The growing interest is encouraged by government policy, as well as increased availability of technology that makes their construction and maintenance easier and more economical.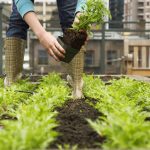 This is opening up opportunities for industry, as new job roles and specialisations emerge. While many of the skills required for landscaping work are transferable to green walls and rooftop garden, unique skills are needed for their design, construction, installation and maintenance.
This project will review current units of competency so that they reflect the skills required for the design, construction, installation and maintenance of green walls and rooftop gardens in Australia.