Remotely operated vehicles (ROVs), drones (in air and water) and biosensors are now being used by some of Australia's larger aquaculture operators. This is an important development that offers improved monitoring, welfare practices and biosecurity measures. Many roles have already been affected by this technology, as some previously manual tasks are now being done from a control room, sometimes even in a different state.
As a result of these developments, industry requires new skills for operating equipment, understanding scientific information, and managing compliance. Digital literacy is needed, not just for these technologies, but for future developments. Skills Impact is excited to work with Australia's aquaculture industry on a new project to address these shifting skills.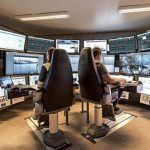 The project will review relevant units of competency to ensure they can be used in the context of real-time distant operations. There is also scope to develop new units and skills sets if necessary.
Visit the project page for more information.
Get Involved
If you have experience in this emerging area of aquaculture, there are a number of steps you can take to get involved:
Make sure your subscription preferences are up to date to receive newsletter updates on the project
Express interest to become a Subject Matter Expert (SME) via the project page
Provide feedback on the draft qualifications, skill sets and units of competency that the SMEs help draft. There will be two rounds of feedback in late 2019 and early 2020.