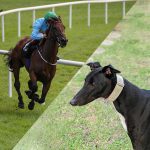 Thanks to everyone involved in this project, the skill needs of people starting their career in the racing industry have now been incorporated into a national qualification. The unique expertise of individuals licensed to operate as a jockey and compete in thoroughbred racing have also been captured in a national qualification.
The final qualifications have been endorsed by the Australian Industry and Skills Committee (AISC) and state and territory ministers. They can be accessed on the national training register (training.gov.au).
The Certificate II in Racing Industry has been updated to better reflect the skills requirements of entry level careers in the racing industry across all codes, including thoroughbred, harness and greyhound.
The Certificate IV in Racing (Jockey) has been revised to reflect the expertise required to race thoroughbred horses, including skills to promote health and fitness of the rider and the wellbeing of the horse.