Technological advancements and market demands are shifting the way work is done in the forestry and timber industry. Many roles now require an increased level of technical skills and new roles are emerging driven by changes in technology.
Over the past year, industry experts have volunteered their time and expertise to review qualifications and skill standards relating to Advances in Woodmachining and Sawdoctoring and Sawmill Timber and Process Optimisation. Thanks to the work of those involved, the forestry and timber industry will soon have access to qualifications and skills standards that better reflect current practices, equipment and terminology.
Industry will be pleased to know the projects have now been submitted to the Australian Industry and Skills Committee (AISC) for endorsement. Once endorsed, the new materials will be published on the training.gov.au website making them available for use by registered training organisations (RTOs).
More information is available on the website via individual project pages.

Advances in Woodmachining and Sawdoctoring Project
The timber processing industry in Australia is part of a complex supply chain, providing timber for housing, flooring and furniture. The increased mechanisation of this sector has changed the way wood machinists and saw doctors (now proposed to be called 'saw technicians') perform their jobs. Qualifications and units have been revised to reflect the technical skills now required in these roles and two new skill sets developed to support career pathways for saw technicians.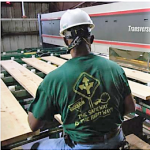 Sawmill Timber and Process Optimisation Project
Skills in timber and process optimisation are in high demand, with new job roles emerging to support the volume and value of timber recovery across an entire business. To help industry meet this need, new and existing units have been reviewed and developed to support production efficiencies in sawmills.