You are invited to review draft qualifications and units of competency for fisheries compliance.
We are seeking your feedback on whether the draft qualifications and units reflect the current skills standards and practices of industry, and whether job functions are accurately described. They have been revised to address the growing compliance requirements in the seafood industry, also taking into consideration advancements in technology and environmental sustainability and management.
The draft qualifications and units will be available for feedback until 30 November 2018.
Please note that these qualifications and units relate to people in the role of Fisheries Compliance Officers and/or Managers. A new skill set is currently being developed as part of the Aquaculture, Fishing Operations and Biosecurity Project to provide training for operators to better understand their compliance and regulatory obligations.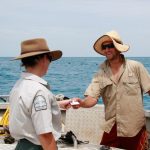 © Image: Department of Primary Industries and Regional Development
How to Provide Feedback
The drafts can be downloaded on the project webpage. You then have two options for submitting your feedback:
online via our feedback hub;
or, by email.
Visit the project webpage for further details.