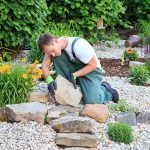 Landscapers are able to enrich people's lives with well designed, constructed and maintained green spaces in homes and public spaces. To do so they require skills in horticulture, plant care, and working with a range of materials.
Qualifications and skills standards for this sector are being updated so that they reflect current industry trends, support safe work practices, and promote clear career pathways.
The final draft skills standards will be available for validation and comment in the coming week.