Thank you to everyone who contributed to the meat rendering and slicing projects. The draft skills standards developed as part of these projects have been endorsed by the Australian Industry and Skills Committee (AISC) and state/territory ministers and are being prepared for publication on the national training register (training.gov.au).
The redesigned Certificate III in Meat Processing (Rendering) incorporates units from other industry training packages that are soon to be published. Once these units are released, the revised meat industry skills standards will be published and available for use.
Meat Slicing Project
Slicing equipment is used across a range of sectors within the meat processing industry, as well as in poultry processing and food processing. High level skills are required to operate the equipment safety and effectively.
As a result of industry feedback throughout this project, a meat slicing unit which was specific to smallgoods has been broadened for use across all applicable sectors.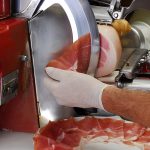 Meat Rendering Project
Those who work in meat rendering and pre-rendering play an important role in minimising waste and supporting the overall sustainability of the meat processing industry.
They have been reviewed and updated to reflect current terminology and processes, and to provide more flexible choice of units for learners.