Your feedback has been used to inform further updates to the draft skills standards being developed as part of the below projects. The final drafts are now available for validation and final checks to make sure they are logical and factual.
Meat Slicing Project
High level slicing and safety skills are used across a range of sectors to operate meat slicing equipment.
An updated meat slicing unit which has been broadened for use across all applicable sectors is now available for validation, along with six skill sets that contain it. 
Knowledge of contamination and other faults that create product quality risks have also been incorporated into the draft and it has been streamlined to removed duplication and more accurately reflect job tasks.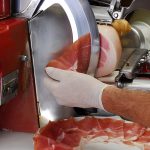 Meat Rendering Project
Those who work in meat rendering and pre-rendering play an important role in minimising waste and supporting the overall sustainability of the meat processing industry.
Updated qualifications and skills standards for rendering and pre-rending are now available for validation.
They have been reviewed and updated to reflect current terminology and processes, and to provide more flexible choice of units for learners.