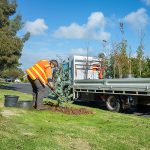 As industry develops more sustainable and efficient ways to care for our public parks and gardens, the skills required for this work are changing.
Qualifications and skills standards for work in parks and gardens are being updated to reflect current terminology, equipment and practices, including sustainable use of materials and workplace health and safety requirements.
The final draft documents are now available for validation and further comment.
Please let us know your views to confirm that the changes made reflect real job roles and work tasks.
To have your say, visit the project page.