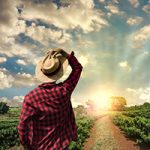 A story featured by ABC last week highlights the work of Nyungar elder Clint Hansen, who is demonstrating the value of Indigenous regenerative land management principles for helping western agriculture and conservation move into the future. Indigenous conservation methods and western agricultural practices will be combined in a Certificate II in Conservation and Land Management, which Hansen is teaching through Geraldton's Central Regional TAFE and Batavia Coast Maritime Institute.
Students will have the opportunity to gain hands-on experience by working alongside the owners of Yanget farm in east of Geraldton, helping to regenerate the property. As part of their training they will learn how to rehydrate creeks and rivers, perform controlled burning in a holistic way, and regenerate agriculture using de-stress stock methods. "We're just trying to give younger generations an idea of what it used to look like on our country and on our land and how it used to repair itself," says Hansen.
Read the article here.