Each year, Industry Reference Committees (IRCs) are responsible for submitting an IRC Skills Forecast and Proposed Schedule of Work (Skills Forecast) to the Australian Industry Skills Committee (AISC).
A Skills Forecast has been drafted for each industry Training Package we support. These documents describe industry skills gaps, emerging markets and changing work methods. They propose a four year plan for reviewing and developing relevant units, skill sets and qualifications.
Thank you to those who provided feedback on the draft Skills Forecast and the priority skills that have been identified for 2019 – 2022. The documents will be considered by the AISC. The information will be used to update the AISC National Schedule of training package development projects. To view further details on the Skills Forecast for each industry, follow the links below.
What is a Skills Forecast?
Skills Forecasts describe industry trends, opportunities and challenges, and identify skills gaps and emerging skills needs. They propose a four year plan for reviewing and developing relevant units, skill sets and qualifications across the training packages. Every year in April, they are submitted by the relevant IRC to the Australian Industry and Skills Committee (AISC). The AISC advises Commonwealth and State Industry and Skills Ministers on the implementation of national vocational education and training policies, and approves nationally recognised training packages. The AISC draws on this information and project submissions made throughout the year to update their AISC National Schedule.
The AISC requires sufficient information to approve Training Package Projects, with this information either being within the Skills Forecasts or in more detail via a stand-alone Case for Change. View current projects, which have been approved out of previous Skills Forecasts or a Case for Change.
Development Process of IRC Skills Forecasts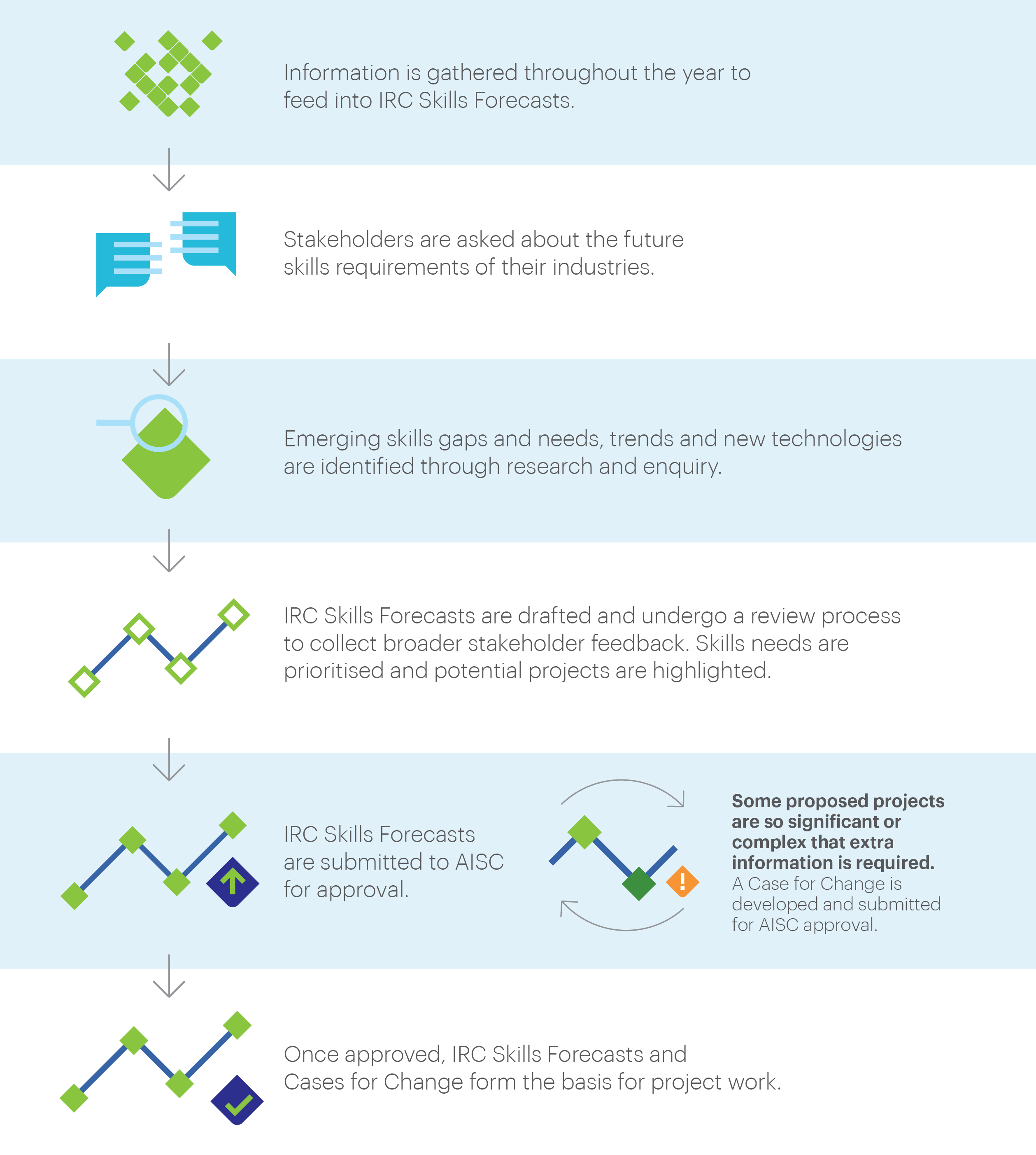 Previous Skills Forecasts
2018 – 2021 IRC Skills Forecasts
2017 – 2020 IRC Skills Forecasts
2016 – 2019 IRC Four Year Work Plans
Please note: Skills Forecasts were previously called Four Year Work Plans.