Industry Overview
Commercially made bread, fruit, snacks, beer, wine, and medicine are just some of the products created and manufactured by the more than 200,000 workers employed in Australia's food, beverage and pharmaceutical industry. With Australians eating, drinking or using these products every day, consumer needs, preferences and demand play a big role in driving industry trends. In recent years, innovations in traceability, automation and contaminant control have affected the skills requirements of job roles throughout the supply chain. Consumers rely on employees in this sector to have the skills and knowledge to implement quality control measures, ensuring products are of high standard and safe to consume.
Between 2016 and 2022 Industry Reference Committee (IRCs) were the formal channel for considering industry skills requirements in the development and review of training packages. In 2023, Jobs and Skills Councils will be established to support a greater voice to industry in its skills and training needs.
From December 2017 there was a separate Pharmaceutical Manufacturing Industry Reference Committee (IRC) operating as needed as an extension of the Food, Beverage and Pharmaceutical IRC.
The food, beverage and pharmaceutical industry covered the following sectors:
Large-scale baking
Retail baking
Beverage production
Confectionery manufacture
Egg & dairy processing
Grain processing
Fruit & vegetable processing
Pet food manufacturing
Pharmaceutical manufacturing
Wine processing
Download the 2021-22 Year in Review for Food, Beverage and Pharmaceutical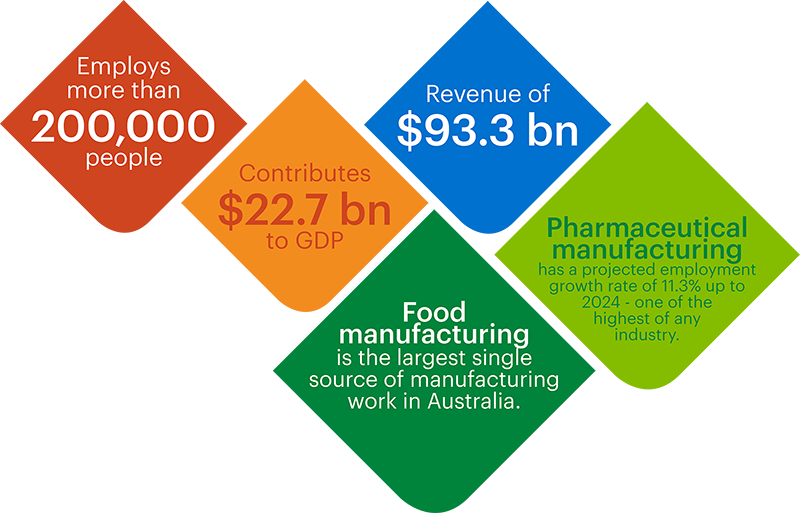 Want to know more about the work to improve skills standards for this industry?
Industry trends, challenges and opportunities were gathered through consultation with industry stakeholders and research to determine the skills industry will need in the future. They were documented in Skills Forecasts, which the Australian Industry and Skills Committee considered to determine future training package (skills standards) projects. Each project was overseen by the relevant Industry Reference Committee (IRC) and managed by Skills Impact. Click on the menu to the left for more information about the IRC, projects undertaken, Skills Forecasts, as well as units, skill sets and qualifications within the Training Package.