Australia's transition toward a more environmentally sustainable society is being driven by political, economic, social and environmental imperatives. The transition brings challenges for the vocational education and training (VET) system to ensure that the Australian workforce is equipped with the skills required for new, and more sustainable, ways of working.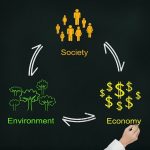 Environmental Sustainability Expert Panel
The Australian Industry Skills Council (AISC) convened an Environmental Sustainability Expert Panel to provide advice to the AISC on how industry skill needs for environmental sustainability can be addressed through the VET system.
The panel will provide advice to the AISC on:
the extent of industry demand for environmental sustainability skills and appropriate whole-of-system approaches to the development of these skills in the Australian workforce
strategies for ensuring that stakeholders from existing and emerging industries have input into training product development and reform
progressing the recommendations in the 2017 Environmental Sustainability Case for Change, in accordance with industry need.
The work of the panel will be conducted throughout 2019. The AISC has appointed Skills Impact to support the work of the panel.
Membership
The panel brings together experts from relevant industry sectors.
| | |
| --- | --- |
| Ray Fogolyan | Australian Building Sustainability Association |
| Mark Goodsell | Australian Industry Group |
| Stuart Johnston | Energy Networks Australia |
| Nerida Kelton | Australian Institute of Packaging |
| Andrew Petersen | Business Council for Sustainable Development Australia |
| Cathy Phelps | Agriculture industry |
The panel will also draw on input from other sectoral representatives and industry specialists to inform their thinking.
Background
In 2017, environmental sustainability was identified by the AISC as one of eight cross-sector projects to address common skills needs, minimise duplication of units, consolidate existing units and remove units that are no longer being used.
A Project Reference Group supported by Skills Impact worked collaboratively with industry stakeholders to:
Compile research on current and future needs for environmental sustainability skills
Consult with industry to identify and validate common skills across industry areas
Identify training package components (units, skill sets, qualifications) that need to be developed, modified, adapted or removed
Produce a Case for Change.
The 2017 Case for Change analysed cross-industry environmental sustainability skill areas, in the light of existing training packages, to identify gaps and areas of duplication. The analysis identified existing sector-specific competencies that could be adapted for use across industries. Analysis also identified opportunities for the development of new cross-industry units of competency, skills sets or qualifications.
Download the 2017 Case for Change
Read more about the 2017 project to develop the Case for change
For further information, please contact us.
Register your interest in the project
Subscribe to the Skills Impact newsletter to keep informed about project updates.
Register your interest