Work With Crocodiles Project
Menu: Click across the green arrows to view active and completed project stages. Consultation takes place at every stage of the project.
Case for change
Crocodile farming is a growing industry in the northern states of Australia, but it is yet to fully mature. The sale of crocodile skins, meat, by-products, as well as associated tourism and conservation markets have made crocodile farming a significant factor in the labour markets and economies of remote communities in the Northern Territory, Western Australia and Queensland.
Changes in legislation have been a major driver of the growth of this industry, with Queensland enacting legislation as recently as December 2018 to allow for controlled collection of wild crocodile eggs. This reflects similar legislation in the Northern Territory in the early 1980s that saw the development of the contemporary commercial crocodile farming sector in Australia.
For Australian crocodile farming to continue its success in international markets, it is important to retain a reputation for safe, effective and sustainable operations. There is a need to consult with industry about current work practices and job roles in order that these can be captured in units of competency. There is a need for consultation with a diverse range of stakeholders to capture the different work environments for working with crocodiles and meet the the needs of remote and Indigenous communities.
This project was first proposed as part of the 2019-2022 Aquaculture and Wild Catch IRC Skills Forecast and Proposed Schedule of Work (see pages 40-47). It was later approved by the Australian Industry and Skills Committee (AISC) after an additional submission outlining the potential scope of the project.
Skills Impact and the Aquaculture and Wild Catch Industry Reference Committee (IRC) will manage this project, consistent with the 2012 Standards for Training Package Development.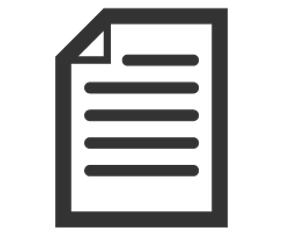 Download Project Proposal 
Project Plan
Handling crocodiles is a specialist skill, whether in the wild, on farms or in zoos. It is a complex field, overlapping with a number of sectors that include aquaculture and wild catch, conservation and land management, and animal care and management.
Conservation plays a key role, with crocodile management programs in place to outline the requirements of all work with crocodiles, recognising the reptile as a natural resource with both economic benefits and cultural value. Crocodile farms operate within these guidelines, acknowledging the importance of crocodile conservation to the longevity of the sector. As such, workers need skills in sustainable farming practices, including the monitoring of crocodile populations in the wild and aiding with scientific research. Unique skills are also required on farm to incubate eggs and monitor hatchlings, and to feed and care for animals.
In addition to farm workers, the handling of crocodiles and their eggs is performed by park rangers, zoo employees, and licenced individuals. Crocodile farming is also closely linked with Indigenous communities, providing economic benefits for Traditional Owners through employment and royalty payments for egg collection on their land. While those with experience have developed and honed techniques for working with crocodiles, skills standards have not been defined within the national vocational education and training system.
Broad consultation with industry will continue throughout this project to describe the skills needed for all kinds of work with crocodiles. Advice from Indigenous communities will be an important part of consultation activities. We recognise that crocodiles have been part of Indigenous culture for thousands of years, as both respected entities and a source of food. We also acknowledge the challenges involved for people who are not related to Aboriginal or Torres Strait Islanders to understand the significance of this connection and will therefore seek advice and guidance from Indigenous people.
Project Scope
The project will address the need for accessible skills standards for working with crocodiles. The focus will be on developing units of competency that can be used across all forms of work with crocodiles, to promote safe and sustainable practices.
Register your interest in the project
Subscribe to the Skills Impact newsletter to keep informed about project updates. Make sure to select 'Aquaculture & Wild Catch' as your industry of interest on the subscription form.
Relevant Occupations
Crocodile farmer
Crocodile farm worker
Crocodile farm manager
Crocodile hatchery worker
Crocodile hatchery manager
Crocodile rancher (egg collection in the wild)
Crocodile handler
Crocodile catcher
Indigenous and Park Rangers
Animal Protection Officers
Zoo worker – crocodile handler and feeder
Project Team
Timeline
September – October 2019
Initial scoping
October – November 2019
Development of draft qualifications, skill sets and units
December 2019 – February 2020
Drafts available for broad consultation
February – March 2020
Validation of final drafts
March 2020
Finalisation of Training Package components
April – May 2020
IRC consideration for sign-off and submission for endorsement
Subject Matter Experts
Subject Matter Experts will be drawn on throughout this project to help review and draft the revised units, skill sets and qualifications.
If you are interested in applying to be a subject matter expert and are able to volunteer your time to this project, please email details of your expertise to sfalk@skillsimpact.com.au
Opportunities for stakeholder input
Stakeholder input is appreciated throughout the duration of this project. The documents will be drafted in consultation with Subject Matter Experts and their networks. Opportunities to provide targeted feedback will occur when the draft materials are made available in September 2019, and again for validation of final drafts in December 2019. However, your feedback is welcomed at any time, and will help us in drafting the qualifications, skill set and units. It is important that training provides a skilled and flexible workforce for the future. The qualifications, skill sets and units need to reflect real work experience. So if you work in the sector, Skills Impact would love your input and help. Please feel free to register your interest for project updates and consultation opportunities by following the newsletter subscription link below. Alternatively, please feel free to contact the project manager, Name on 03 9321 3526 or sfalk@skillsimpact.com.au.
Stakeholder Consultation Process
A list of key stakeholder organisations has been identified for this project. Skills Impact will ensure contact is made with each of these organisations during the development of this project to seek their involvement and their views on the draft qualifications, skill sets and units.
If you are aware of an organisation that you think should be involved, please contact the project team to ensure they are contacted by us.
Of course, all and any interested industry participants are encouraged to engage in the consultation of this project, when the draft qualifications, skill sets and units are available for feedback via this webpage and workshops that take place around Australia. Consultation is not limited to the organisations on this list. This list simply helps us to identify those organisations that, because of their industry role, size or specialty, are likely to have a key interest in the development and outcomes of this project.
Development
Working with crocodiles is a specialist skill required in a range of sectors including aquaculture and wild catch, conservation and land management, and animal care and management. Whether in the wild, on farms, in zoos or in wildlife parks, skills are required to interact with crocodiles, their eggs and their environment in a sustainable, safe and humane way.
Members of the Skills Impact team have been consulting with Subject Matter Experts to gather information about the knowledge and skills required to work with crocodiles.
While there are some unique skills required to work with crocodiles on farms versus in the wild, essential skills are common to both environments. These skills include awareness of zoonotic diseases, welfare of both the crocodile and human, cultural sensitivity, biosecurity, risk awareness and assessment, and the humane treatment of crocodiles.
"Farming any species is a responsibility. Training staff to understand that crocodile welfare is the pinnacle from where crocodile farming begins is imperative. Maximising welfare and farm production output are 100% aligned so having staff that are trained in this philosophy will ensure that animals are humanely farmed with appropriate access to food and housing requirements as well as being able to prevent and recognise disease early to reduce reliance on antibiotics. These, in turn, will increase the production output of farms and allow further expansion of this sustainable use industry with broad-reaching community benefits."
Dr Sally Isberg, Managing Director at Centre for Crocodile Research
Visits to the NT
Members of the Skills Impact team have visited the Northern Territory for two Subject Matter Expert workshops. The open discussions during these two visits have already identified a need for several new units of competency, and associated skill sets, as well as a potential qualification. Further consultation is required to determine if these units will be placed as electives in the Certificate III in Aquaculture, Certificate III &/or IV in Conservation Land Management. Discussion about placement is ongoing.
While in Darwin, the Skills Impact team also visited the Crocodylus Park to learn about their breeding program and conservation work and see it all in action. They also met with experts on the Adelaide River to observe the 'catch and release' technique, witnessing first-hand how crocodile handlers and rangers safely and humanely relocate crocodiles who are injured, ill or a danger to humans.
As the skills for work with crocodiles cover a number of industry subsectors, it's vital that consultation encompasses the full range of relevant job roles. Industry experts consulted during this development stage have included crocodile farm directors, supervisors and handlers, park rangers, wildlife officers, animal wranglers, research scientists, and a biosecurity officer, from QLD, WA and NT.
Another important element of this project is ensuring advice and feedback is received from Indigenous Australians, whose culture has respected crocodiles as entities and a source of food for thousands of years. Today, crocodile farming provides economic benefit for Traditional Owners through employment and royalty payments for egg collection on their land. Skills Impact is consulting with Aboriginal and Torres Strait Islander Peoples throughout this project.
Click here to read about a recent visit to the Northern Territory.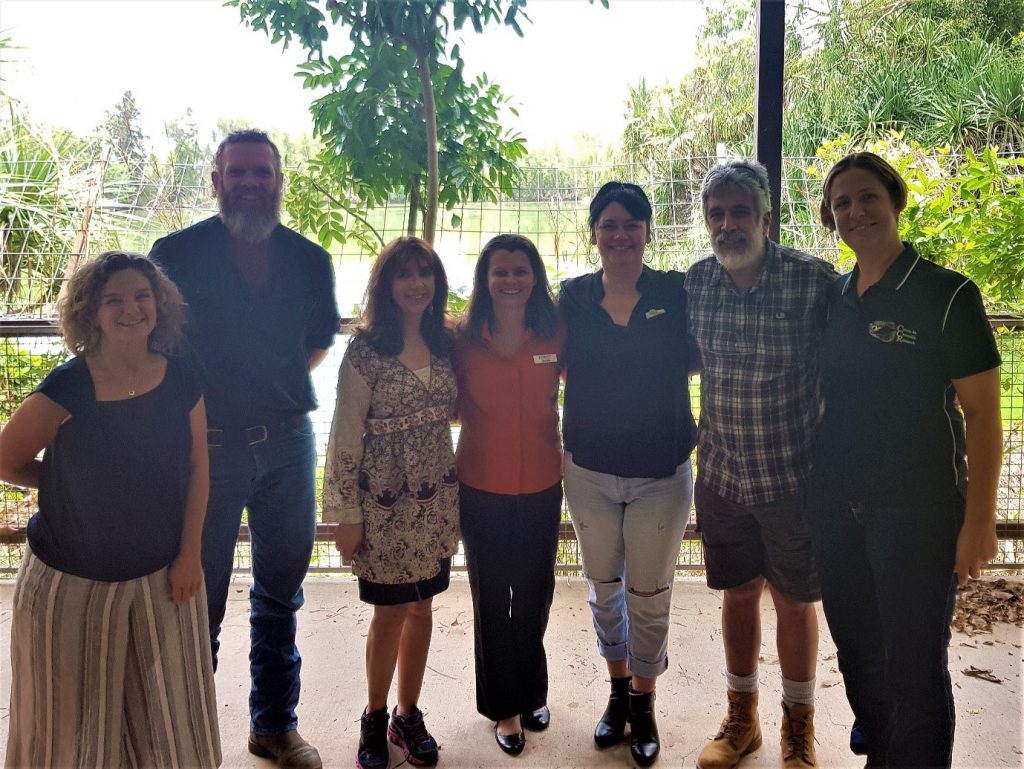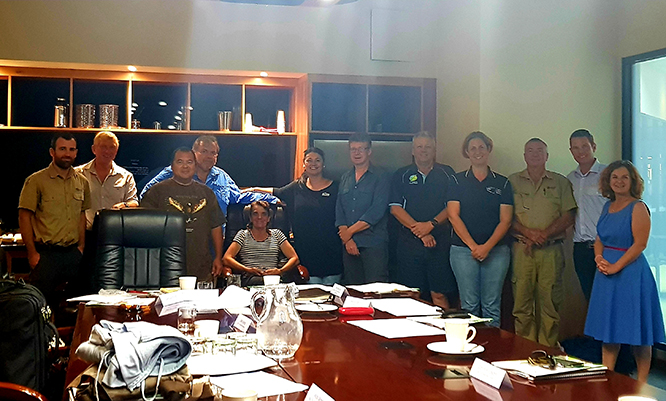 Development outcomes and next steps
Thank you to those stakeholders that have been involved and provided feedback and advice so far.
The draft units of competency and skill sets will be made available on this webpage for broad stakeholder consultation and feedback in January and February, 2020 (under the 'Drafts Available' menu above). We welcome your feedback and advice on the draft skills standards. Face-to-face consultation workshops will also take place, with a webinar planned for those unable to attend in person.
Registrations for these workshops will open soon.
Face-to-face consultation workshops
Dates and times tbc.
Broome
Cairns
Darwin
Kakadu
Katherine
Consultation webinar
Date and time tbc.
February 2020
Register your interest in the project
Subscribe to the Skills Impact newsletter to keep informed about project updates. Make sure to select 'Aquaculture & Wild Catch' as your industry of interest on the subscription form.
Drafts Available
This stage has not yet commenced
Validation
This stage has not yet commenced
Finalisation
This stage has not yet commenced