You're invited to provide feedback on draft documents as part of the Artisanal Food & Beverage Project. This includes qualifications, skill sets and units of competency pertaining to artisan brewing, distilling, cheese making and fermenting.
We are seeking feedback on whether the draft documents reflect the current skills standards and practices of industry, and whether job functions are accurately described.
You are welcome to provide feedback on as many of the draft documents as are relevant to you. They will be available for feedback until 1 March 2019.
Note: the focus of these documents is on artisan processes, which may be conducted by smaller scale businesses, or use more "hands on" methods.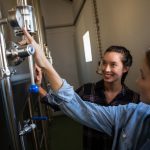 How to Provide Feedback
The drafts can be downloaded on the project webpage. You then have several options for submitting your feedback:
online via the feedback hub;
register for a face-to-face consultation workshop or webinar;
or, by email.
Click here to visit project page
Register for a Face-to-Face Workshop or Webinar
The draft documents will be discussed during face-to-face workshops and webinars being held in February. Register to attend one of these workshops using the links below.